National surveys show that customers' biggest complaints about buying a car are that salespeople don't know their products or how to sell them. Typically, salespeople are spending only 10 minutes on the car but an hour in the booth begging for a "mini", when they should be spending an hour on the car and 10 minutes in the booth writing a three-pounder!

In THE MILLION-DOLLAR WALKAROUND, we set up the showroom like a theater, with a car in the center and chairs placed around it. I then greet a customer (manager volunteer), determine his needs and then perform a dazzling walkaround with dozens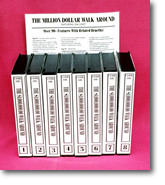 of features and benefits as well as incredible techniques that your salespeople have never even dreamed of! I teach your salespeople how to have the car sold before the demo.

This highly informative and entertaining workshop includes the following:
Live Walkaround With Determination Of Needs
Mini Seminar On The "8-Keys To A Million-Dollar Walkaround" - Printed Material Included
Follow-Up Training - A Complimentary Copy Of My Newest Video Series, "THE MILLION-DOLLAR WALKAROUND", Sold By Laser Ltd. For $995.
THE MILLION-DOLLAR WALKAROUND is a 3-hour seminar, which can be presented in either the morning or the afternoon and costs only $2,995. including the video series. Such a deal! This is a must for your store. It will instantly increase your Closes, Grosses and CSI!